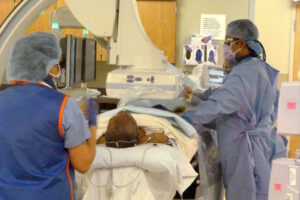 Article By ROBERT LEE LONG Community Editor Jul 18, 2016
Noted interventional radiologist Dr. Henry Dalsania, dressed in light blue scrubs and plastic, slip-on booties, prepped for surgery in typical fashion as he spoke with a reporter at Baptist Memorial Hospital-DeSoto.
But once in the operating room, Dalsania, a Memphis native with vast experience in the medical field, was about to give his patient Albert Allen a very special delivery.
Dalsania's targeted radiation therapy, also known as selective internal radiation therapy or SIRT, selectively delivered a potent dose of internal radiation to Allen's liver.
Allen, 74, a Memphis resident, is suffering from Stage 4 liver cancer. The retired assembler from Navistar International was in good spirits as he lay on a hospital gurney, awaiting the procedure.
"I feel good about it," Allen said, groggy from anesthesia. The father of three grown sons and grandfather of five grandchildren, felt the procedure was the best option.
Brenda Allen, his wife of 43 years, said her husband underwent a liver re-section in August of 2015.
"After the liver re-section, they wanted him to take chemotherapy," Brenda Allen said. "The doctor saw one little spot. He was in relatively good health. The doctor said that Albert would be a good candidate for the Y-90."
Albert Allen's cancer journey began with the discovery of a mass on his kidney in 2014. Allen, a diabetic, had his right kidney removed in 2014
"We were on vacation in Washington, D.C., and he (Albert) had gotten sick. That's when we found out he had a mass on his kidney. He had no symptoms."
Dalsania, a slender, dark-haired man in his 40s who speaks in a soft, polite, professional manner, explained that Allen's tumors were contained in his liver and indications are the disease has not spread outside that lifesaving organ.
Yet, the old traditional way of using chemotherapy and other radiation treatment often destroys healthy tissue along with diseased tissue.
But using the patented Y-90 resin microsphere treatment, millions of tiny spheres are delivered directly to the tumors while sparing healthy liver tissue.
"In Mr. Allen's case, he had several lesions in his liver," Dalsania said, explaining that Allen's lesions are being targeted with radiation during a "minimally-invasive" procedure during which an incision measuring less than half an inch is made above the groin where the spheres are injected directly into the tumors.
Dalsania explained the Y-90 procedure is being widely used across the nation, but Baptist Memorial Hospital-DeSoto is exclusively utilizing the technique at its Southaven hospital, one of the very few hospitals in the Mid-South which make use of the technique and state-of-the-art medical technology.
The procedure is often used to treat patients who have colorectal cancer, the second-leading kind of cancer in the Mid-South, with more than 140,000 cases in the U.S. each year. Often colorectal cancer metastasizes and spreads to the liver.
Y-90 treatment can augment traditional chemotherapy therapy or be used as an alternative, according to Dalsania.
Treatment goals and patient benefits include extending life, increasing time between treatments, shrinking the tumor size, slowing tumor growth, producing fewer side effects and improving the overall quality of life.
The procedure is a form of outpatient surgery and takes approximately two hours.
"We take a multidisciplinary approach," Dalsania said. "It's by no means a cure but a tool to control the disease."
Article can be found at the Desoto Times